Connect & monitor industrial plants
Our  AiCom is a monitoring and control system specifically designed to be easy-to-install, reliable and user-friendly for commercial and industrial PV plants. The AiCom graphical user interface makes configuration and system commissioning easy. It incorporates grid management functions and zero export control, a reliable solution to increase self-consumption.
Easy-to-install with standard tools
Zero-export control and powerlimit setting
LCD screen for local monitoring
Monitor up to 5 devices
per stick
 Wi-Fi connection for remote monitoring
5 days of data storage for monitoring backup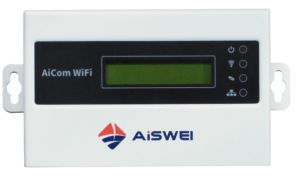 This small device (138 x 31 x 87.5mm) of 230-260 grams is easy-to-install. With a communication range of 1000m (RS485) and 100m (Ethernet) it is a great connector for any industrial plant.
It is powered with DC 7.5 V to 12 V /300 mA and comes with adaptor to mains.
Connect up to  5 inverters to the AiCom and monitor locally on the LCD screen and connect to Wi-Fi for remote monitoring on our apps or web-cloud.
The AiCom has  demand response mode (AS4777), zero-export control and power limit setting. It provides reliable data storage formonitoring backup for up to 5 days.